A while ago I posted about wanting to run Good for Nothing style events in Cambridge, connecting skilled people with charities and social enterprises. Well, on Monday we had our first event. We had about 25 people come along, with lots of interesting ideas about how tablets and smartphones can help the elderly and those with learning disabilities. We don't yet know what will come next, but you can sign up to our mailing list if you want to be kept up to date.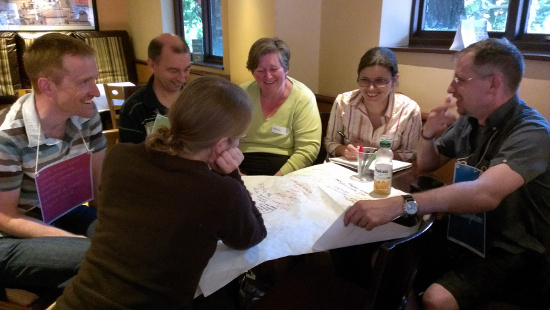 One of the things that surprised me is that we had a real mix of people there. There were a few software developers, and some other people with an interest in technology. But we also had a lot of people who were involved in caring for the disabled, or who had more of a general interest in charity work. I think the mix worked well and having some different perspectives around helped with the discussions have a bit more depth.
Those that didn't have much technical knowledge seemed to get a lot out of talking to the techies that were there. A typical piece of feedback was "I didn't know all this sort of stuff was out there". It looks like discoverability is still a massive problem.
I was talking to a friend about this on Friday night. She's a primary teacher and her school's just had a grant to buy a set of iPads and Samsung tablets. Most of the curriculum is taught in an integrated way, with subjects all working together around a central topic. However, IT is still separated and taught on its own. They've been playing with Scratch on netbooks already, but would like ways to incorporate technology into other lessons as well. She said it wasn't just that they didn't know what solutions were out there, but that they didn't even know what questions to ask.
Those of us with technical expertise often underestimate how much we actually know and how much confidence we have. If you've been reading tech news websites for years and experimenting with random code, hardware or ideas then you're a massive step up from an average member of the public. We aren't just experts in our own field, but in the online world in general. We've spent hundreds of hours training ourselves to rapidly find and assimilate information.
I think there's a need for an event that puts some of that knowledge to good use. Perhaps some sort of drop in session for technology advice. We could get together a group of techies in a Cambridge coffee shop for a couple of hours; then people with problems could pop in and ask for advice. It wouldn't be about tech support, but idea support. The focus would be on finding new ways to help people, rather than figuring out why their laptop won't turn on.
Of course we won't know the answer to every question someone has, but we will probably have a better idea of where to start looking. Maybe we'd whip out a laptop or tablet and start researching it with them there and then.
As well as being useful for those dropping in for advice I think it would be pretty enjoyable for those giving it. We'd meet new people, and investigate new and interesting problems. We might even come across a great idea for a new app or website.
Would you be interested in coming along to an "idea support" drop in session? Have you got a problem you need solving, or could you help other people with theirs? Let me know in the comments below.