My weight is always something that I've been a bit self conscious about. It's not that I'm particularly fat, but for the last few years I have had a bit of a belly. And, at my height, it's not difficult to stray into the "obese" BMI range.
In an effort to try and lose a bit of weight I've signed with WeightWatchers. So far the system seems to be working well for me and I've lost half a stone.
At the heart of the WeightWatchers system is keeping track of what you eat. Every food has a points value (ProPoints) assigned to it. This is a single number that's calculated from the fat, protein, carbohydrate and fibre content of the food. The idea is to limit how many ProPoints you eat each day, and so limit the calories you take in. It's not necessarily about eating less, but about giving you an easy way of comparing alternatives when you're making a food choice.
A lot of the food we cook is from recipes on the Good Food website. As the website lists nutritional values alongside each recipe it's easy to calculate the ProPoints value for a portion.
As a programmer it seemed like a waste of my time to copy the numbers from the Good Food website and paste them into the WeightWatchers calculator. I found a user script that would calculate the ProPoints values for recipes and display them on the page. However, Google have made it difficult to install user scripts in Chrome these days and I wanted something that would work without too much hassle. I took that code as my inspiration and created a Chrome extension that would do the job.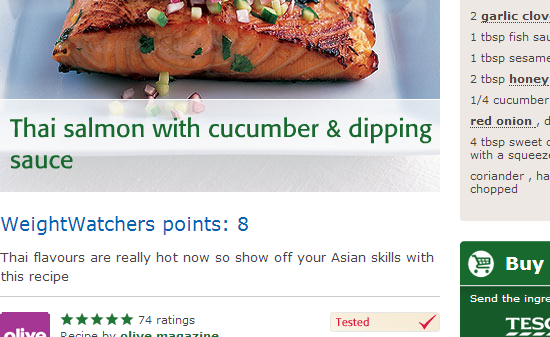 The extension takes the nutritional values given on the Good Food website and uses them to calculate the number of ProPoints in a portion. It'll show this number on the recipe page, and also on pages showing search results.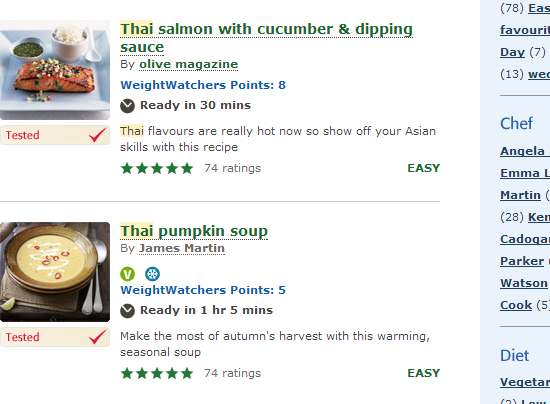 If you're following WeightWatchers then I'd recommend installing it. It's really helped us find tasty meals that don't cost too many ProPoints, and that's made following WeightWatchers much easier.