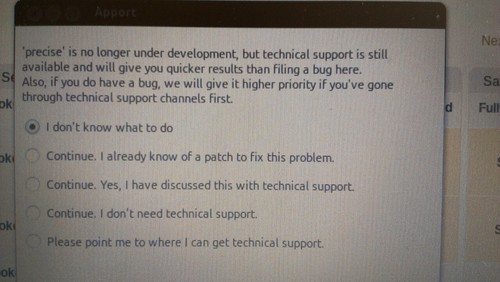 Ubuntu just crashed on me. After it recovered I had the option of filing an error report, I then had this box pop up. It's the type of user interface decision that will mean Linux is always a niche product.
Even as a technical user it took me a while to remember that "precise" is the codename of the Ubuntu release I have installed. If the OS had been installed by a helpful friend or relative I wouldn't have a clue. Everywhere else in the UI I can see it's referred to as "Ubuntu 12.04", then out of nowhere this "precise" word pops up. What is that? Is it the name of the program that crashed? Is it the name of subsystem that's malfunctioned? We're given next to no context.
Of course the guy that wrote this dialog box knows what "precise" is, because he's deeply involved in the Ubuntu development process. This word means something to him, but it means almost nothing to the end user. The developer hasn't tried to think like an end user, and nobody at any point in the development process has done that either. The result is that the user is left confused. And this is at a point when a system error has already left them feeling vulnerable. Their confidence as a user is kicked while it's already down.